Roger Waters, Madison Square Garden, 2006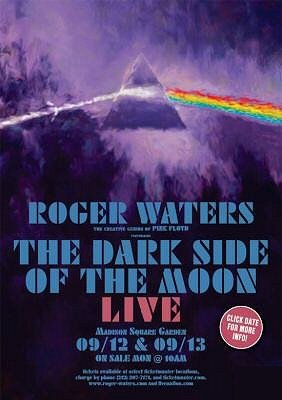 El recien pasado 12 de septiembre, Roger Waters y su banda (incluido Nick Mason) se presentaron en el Madison Square Garden de NY, Estados Unidos para un excelente show con temas de la gira del Dark Side Of The Moon.
Bajar Aqui
Setlist
01 in the flesh
02 Mother
03 Set The Controls For the Heart Of The Sun
04 Shine On You Crazy Diamond
05 Have A Cigar
06 Wish You Were Here
07 Southampton Dock
08 The Fletcher Memorial Home
09 Perfect Sense Parts 1 and 2
10 Leaving Beirut
11 Sheep

Segunda parte
01 Dark Side of the Moon

Encores
02 Band Introductions/The Happiest Days Of Our Lives
03 Another Brick In The Wall (Part 2)
04 Vera
05 Bring the Boys Back Home
06 Comfortably Numb
Instrucciones de Descarga:
1. Dar click en el link
2. Abrirá una nueva página donde a primera vista no se ve el link. Después del texto de Forex hay un banner (o imagen de publicidad). Justo debajo del banner aparece la frase "This is your link to file, unlimited speed for all". Hagan click alli (aunque no aparezca el cursor de la mano). Ahora aparecerá una parte de la pagina que estaba (hasta ahora) oculta.
3. Un poco más abajo del banner hay un párrafo de texto. Al final de este párrafo aparecerá esta nueva parte donde aparece el link a la descarga.Se hace click allí y se descarga.
Nota: se puede utilizar gestor de descarga (probado con firefox + extension flashgot + gestor
flashget)