Poles Apart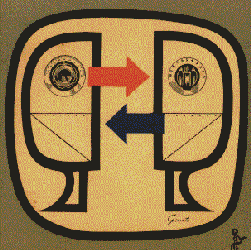 Música: Gilmour
Letras: Gilmour, Samson, Laird-Clowes
Voces: Gilmour

Alguna vez te diste cuenta en lo que te convertirías?
Durante 1993 David Gilmour ya había comenzado a trabajar con algunos demos para el album The Division Bell, muchos de ellos se fusionaron de composiciones hechas durante las sesiones para Crystal Voyager y Colours Of Infinity, otros tantos nacieron a partir de la ayuda que prestó su actual esposa Polly Samson y otros letristas a la confección de los temas.
En el caso de Poles Apart, David reclutó a Laird-Clowes para trabajar en él. Este músico que ha trabajado para Dream Academy y Trashmonk, se reunió con Polly Samson para escribir el tema, mientras que la música fue compuesta 100% por David Gilmour
La temática de la canción es la misma abordada en la mayoría de los temas de The Division Bell, y es quizás más específica en sus mensajes que las otras, pues en ella existen referencias bastantes directas a la historia de la banda.
Según Polly Samson:
"the first verse is about Syd Barrett, the second verse is about Roger Waters."
(el primer verso es sobre Syd y el segundo sobre Roger).
Poles Apart

Did you know...it was all going to go so wrong for you
And did you see it was all going to be so right for me
Why did we tell you then
You were always the golden boy then
And that you'd never lose that light in your eyes

Hey you...did you ever realise what you'd become
And did you see that it wasn't only me you were running from
Did you know all the time but it never bothered you anyway
Leading the blind while I stared out the steel in your eyes

The rain fell slow, down on all the roofs of uncertainty
I thought of you and the years and all the sadness fell away from me
And did you know...

I never thought that you'd lose that light in your eyes

Polos Aparte

Sabías... todo iba a ir tan mal para tí
Y viste... todo iba a ir tan bien para mí
Porqué dijiste entonces
Siempre eras el niño dorado entonces
Y que nunca perderías esa luz en tus ojos

Oye tú... alguna vez te diste cuenta en lo que te convertirías
Y viste que no era solo de mí de quien corrías
Sabías todo el tiempo, pero nunca te molestó de todos modos
Guiando al ciego mientras miraba el hierro en tus ojos

La lluvia cayó lento, bajó a todos los techos de incertidumbre
Pensé en tí y en los años y toda la tristeza se fue de mi
Y sabías...

Nunca pensé que perderías esa luz en tus ojos

David y su esposa Polly Samson

Para Polly la frase "Sabías... todo iba a ir tan mal para tí" es una alegoría al gran Syd, pero la frase "Y viste... todo iba a ir tan bien para mí" es un sentimiento de David hacia Roger Waters. también la frase "Pensé en tí y en los años y toda la tristeza se fue de mi" es referida a Roger.
Para la creación musical del tema, David Gilmour reunió algunos elementos ya utilizados por la banda. Así se inspiró en el eco vocal que aparece en temas como Us and Them, Dogs o Your Possible Pasts, especificamente en la parte del tema que dice "Did you know... you know... know...'"
Aunque Poles Apart es un tema Gilmour/Samson, es imposible no sentir la influencia de Richard Wright en él, pues Rick fue el que insistió en agregar una parte intermedia al tema tipo vals de teclado con sonidos de carrusel. Este notable elemento, lo usaría mas tarde rick en su album Broken China, especificamente en el tema Breaking water de 1996.
Para Gilmour, sus sentimientos con la música como Poles Apart se expresa de la siguiente manera: "Pienso que, además de los libros, la música tiene un significado en mi cerebro, que a través de mis oídos puede llegar a tus ojos..."
Polos en vivo
El tema fue estrenado el 3 de abril en San Antonio, a 4 dias de la salida del album (30 de marzo de 1994).
Aun cuando es un buen tema, no recibió la atención de otros como High Hopes, What Do You Want From Me o Coming Back To Life, por lo cual, si bien se tocó en vivo, existen no muchos registros de él en concierto.
Dentro de los registros de Poles Apart encontramos la performance de Passadena del 16 de abril de 1994 (roio High Hopes), la del 20 de abril en Oakland (roio Stoned on 420), la del 22 de abril tambien en Oakland (Oakland Bell), la del 28 de abril en Texas, la del 12 de mayo en Clemson, la del 19 y 20 en Foxboro (roio Keep Talking), la del 22 de mayo en Montreal, la del 2 de junio en Filadelfia (Veterans Stadium First Night), el concierto en el Bronx del 10 de junio, el del 25 en Vancouver, el del 1 de julio en Winnipeg, el del 3 en Madison y el del 9 en Washington DC (roio Poles Apart). todo esto en el marco de la gira por Norteamérica.
Durante el resto del año se siguió tocando el tema esporádicamente en Europa, así existen los registros en Lisbon del 23 de julio, en Chantilly del 31 de juliom en Basilea del 7 de agosto, en Montpellier del 9 de agosto, en Gelsenkirchen del 23 de agosto (roio Gelserkirchen 94), en Oslo el 30 de agosto (roio Marooned), en Rotterdam el 3 de septiembre (First Bell In Rotterdam) presentado por la Volkswagen, en Lyon el 11 de septiembre (roio France 1994) y finalmente en Londres el 28 de octubre de 1994 en el Earls Court (roio Complete Earls Court Vol XIV).
El tema, que no fue considerado para el album PULSE, no fue nuevamente retomado en ningun setlist de David Gilmour.